My newest Twinsie never ceases to amaze me. Her manis are always so cool and her posts always make me laugh. And really, what else can a blog reader ask for?
I simply adore what Elizabeth came up with here and I have no doubt you will too!
________________________________
Hi, Amanda's readers! My name is Elizabeth, and I'm happy to be pitching in while Amanda recovers from nail trauma. Given her penchant for purple and my appetite for some autumn shades, I thought this post would be a great time to try a gravender (greige? grurple?) gradient. Wow, that's a lot of alliteration. Where was I? Right, gradient!
My original plan was to do a gradient of China Glaze Below Deck and Essie Smokin' Hot, but when Below Deck dried much darker than the bottle, there really wasn't enough contrast between the two. I sponged a 3rd purple, Revlon Bold Sangria, on the very tips, but it was too purple, too different to blend well with the others. Frustrated, I tried blotting a little more of the Bold Sangria around, which didn't quite work...and that's when things got kinda weird. And just a little bit awesome.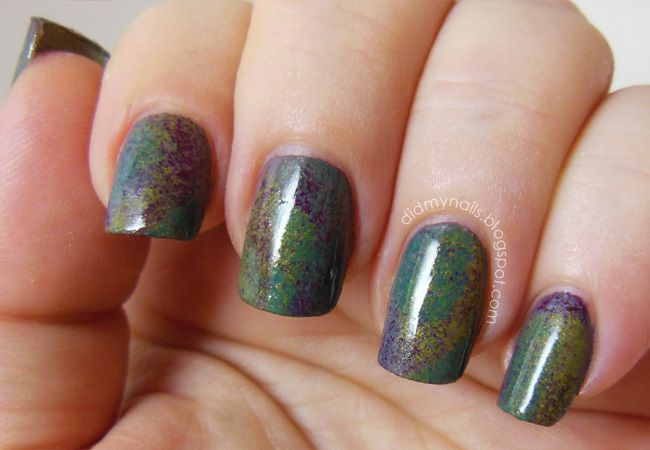 I figured it wouldn't hurt to throw some more colour around, just dab and sponge and go a little crazy with it and see if it might turn into something fun. Along with the purples there's China Glaze Trendsetter, Exotic Encounters, and Elephant Walk all jumbled up in there--I think it looks a little like a muted Mardi Gras! Thing is, from a distance or in dim lighting, it all kind of blends into a sort of dark olive creme, but when the light hits it you can suddenly see all the colours that go went into the mix. I couldn't have planned that if I'd tried!
________________________________
Elizabeth, while I don't see muted mardi gras, I see all the magnificent colors I saw when I studied abroad in South Africa. I'm sure the names of the China Glaze polishes included have somehow manipulated my memory, but regardless, I'm stunned by how gorgeous this mani is. Just wow.
Thank you so much for helping out while my nail catches up with the rest of my fingers!
And to all my readers who are also celebrating Rosh Hashana, wishing you a happy, healthy, and sweet new year to you and yours!