I'm am beyond excited for today's special second post! Sarah, from the fabulous and informative The Giveaway Lifestyle, was the lucky winner of my 25 Follower Giveaway that included 6 polishes from the Wet n Wild On the Prowl Collection. When we were emailing back and forth discussing the prize, I asked her if she would be interested in doing a guest post, swatching and reviewing her win. She graciously agreed! I hope you enjoy her review and check out her blog for all the great giveaways that are floating around :)
__________________________
I recently received the Wet'N'Wild On The Prowl Collection in a giveaway from Amandalandish. I was very excited to get these polishes and wanted to swatch them all!! One thing I must say before I start is that, while I loved the polishes, I didn't like the brushes. I don't know if they were bad quality or what is going on with WNW brushes, but I did not care for them them. I like that they are wide, but something about them really turned me off. I guess the texture of them... They didn't have a smooth feel to them, and it seemed like the ends were just hacked off. I don't know. I think if the brushes were better, it would make a HUGE difference in application. Other than that, though, the formula of the polishes was great. Oh, and all my swatches are with flash because it was the middle of the night when I did them. :) On to the swatches.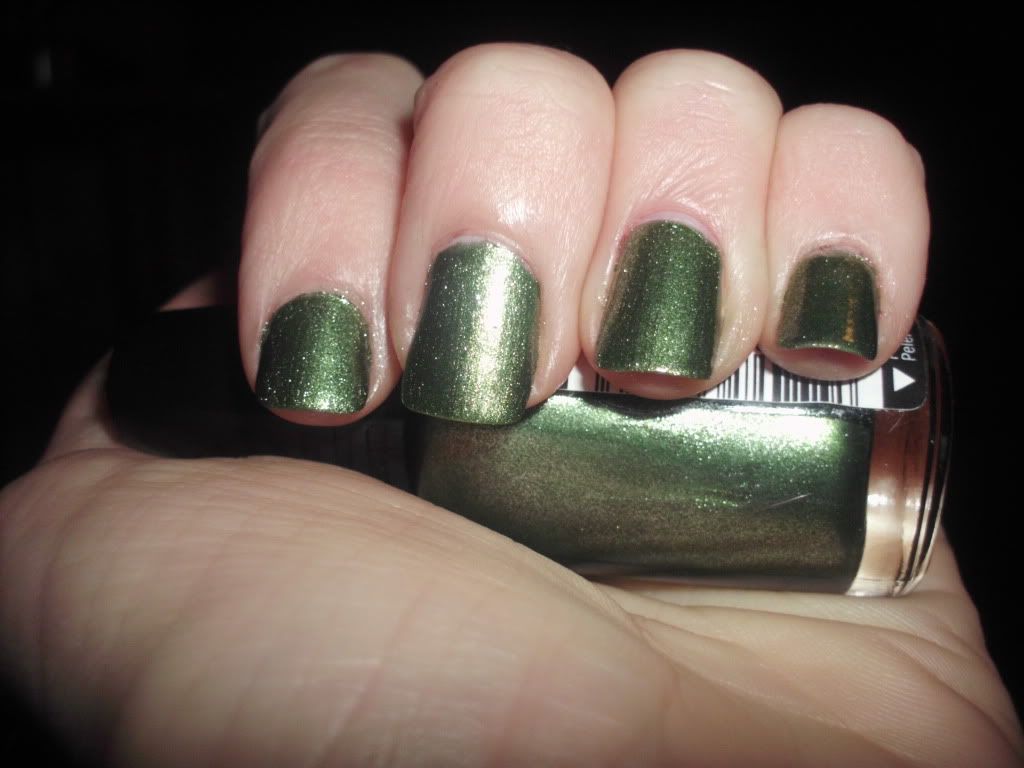 Jungle Fever is a beautiful, shimmery, mossy green color. I honestly would have never picked out a green for myself, or thought that this would be a favorite, but I loved it. I will probably wear this frequently during fall this year. It almost could transition into a Christmas polish, as well, but maybe if it was a little darker.
More swatches after the jump!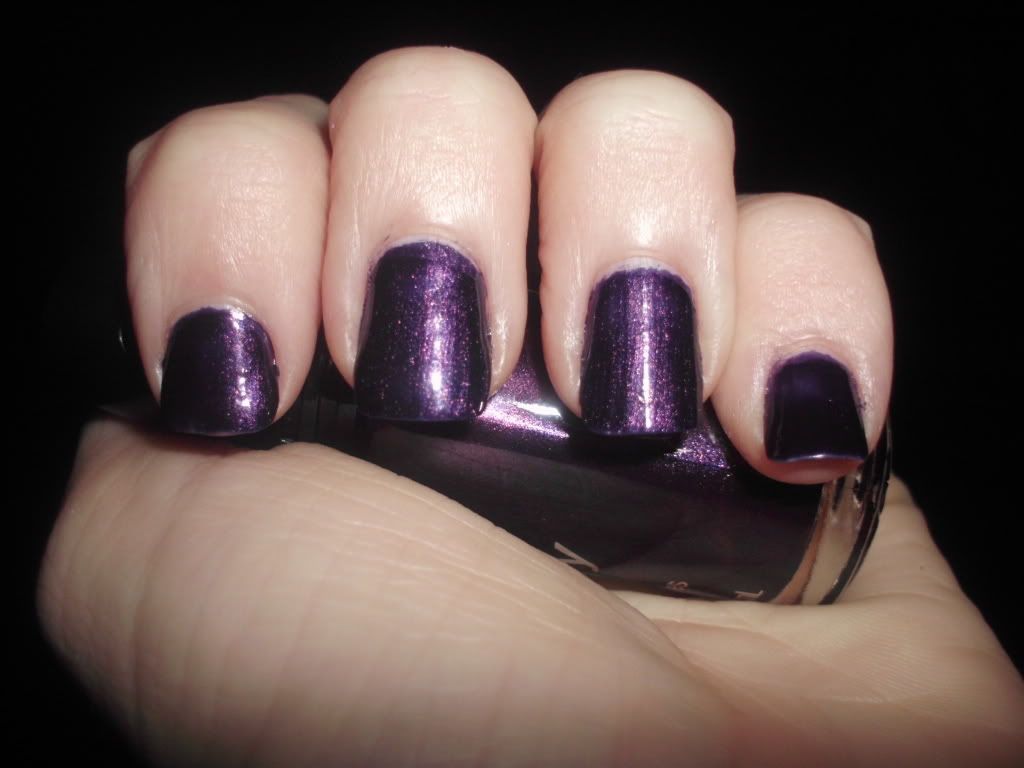 Ready to Pounce is a deep purple shimmer creme polish. I love this one, too. It went on beautifully in two coats. I think that Correction Tape would look stunning over this, and I wish I would have tried that combo. There looks to be a bit of pulling on my pinky, but that didn't translate in real life, so it may have been the angle of the picture or something. I'm sure a third coat would have taken care of it for pictures.
Next is Buy Me A Drink. This is a great fall color...I guess you could call it a maroon shimmer. I have lots of colors very similar to this in my stash. It is a great go-to color for fall, although this lacks the brownish undertones that most of these shades have. This one is slightly more purple-y and I had to take lots of pictures to get it to photograph true to life, and not so purple.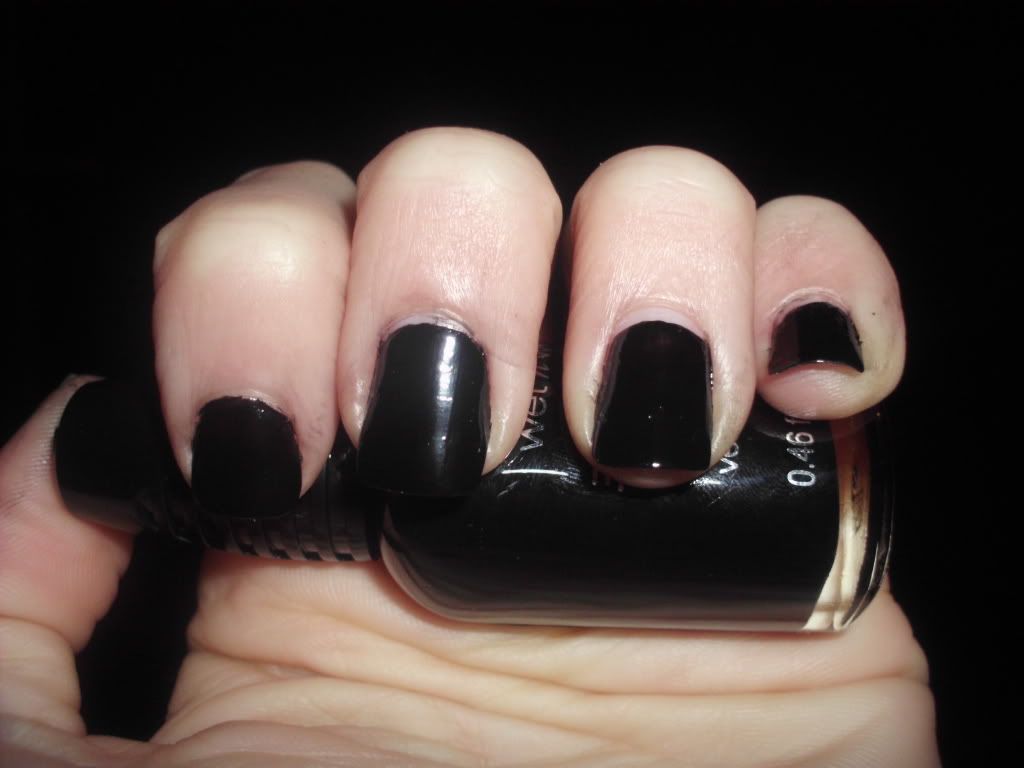 Ink Well is your everyday black creme. Nothing really special about it, honestly, and because of the shoddy brush was a pain to cleanup after polishing. If I want to paint my nails black, I will probably not be using this polish mainly because of the brush.
I wanted to compare Party of Five Glitters and Correction Tape, because I thought they looked very similar. PoFG is on the index and ring finger while Correction Tape is on the middle and pinky finger. As you can see, PoFG has green, purple, silver, and red medium sized glitter with small red glitter. Correction tape has no small glitters and the colors are purple, blue, silver, and gold. I layered three coats on the ring and pinky finger. Correction tape ends up looking more dense and darker because of the size and color of the glitters. This is definitely a layering polish and would look great over lots of different colors. While they aren't exact dupes, I think that if you had one, you wouldn't necessarily need the other unless you are a polish-aholic ;)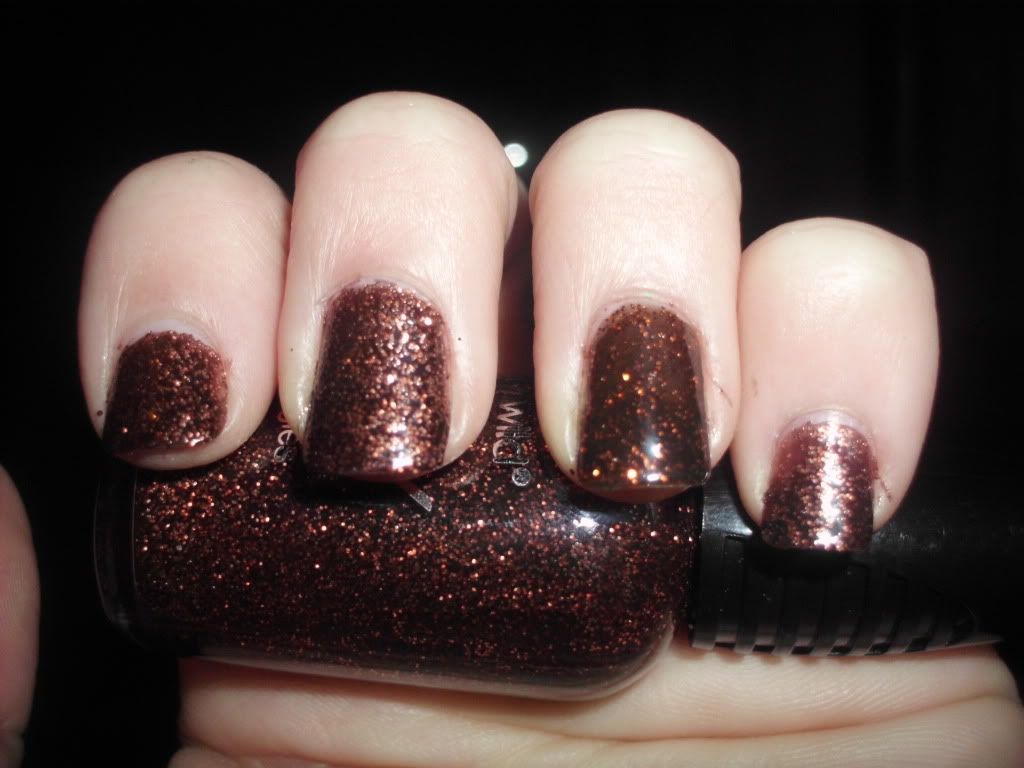 I also compared Cougar Attack to Sally Hansen Pumpkin Spice because at first, I thought these were pretty similar. After putting them up against each other, though, I don't think so at all. Pumpkin Spice is a rather sheer orange glitter in a black jelly base. It is on my ring finger with four coats. The rest of the hand has Cougar Attack, which I would describe as a copper colored glitter in a brownish base. It's much more opaque and the glitter more dense, as it only took two coats to get the result you see here. I should also add that Pumpkin Spice dries very smooth and glossy, while Cougar Attack dries rather gritty and would need at least one coat of Top Coat, if not two.
What do you guys think? Do you have any of the On The Prowl polishes? What's your feelings on the Wet 'N' Wild brushes?
__________________________
Thanks again to the lovely, Sarah!